Theme Features
100% Responsive
Built using Bootstrap 4, Underscores, Gulp and SASS
Built for Gutenberg
Premium Images Included
30+ Hero Layouts
90+ Header/Navbar Layouts
10+ Footer Layouts
26 Home Pages and Demos
150+ Gutenberg Blocks
Well Documented
and many more…
Keep Scrolling, there's more to see…
Bootstrap Flexbox Grid
Premium Plugins & Libraries
Mega Menu
Unfold (DropDown/Sidebar and others)
Youtube, Vimeo & HTML5 Background Videos
FontAwesome
Pricing Tables
Smooth Parallax Scrolling
Image & Content Sliders
Modal Windows
Countdown
Sticky Blocks
Animated Typing Words
Huge Collection of Form Options
Gradient Colors
Fill Colors
Stroke Colors
Stop-Colors
On Scroll Animations
Masonry Grid Layouts
26 Unique Home Pages
Exit Intent Detection
Animation Libraries
Malihu Scrollbar
Documentation
We've included 2 documentation, one for the theme and the other for the Gutenberg Blocks that is supplied with the theme. Both the documentation links can be accessed online from :
Trial & Dummy Data
We encourage you to try our theme before purchase. Please reach out to us via our support tab and we'll setup a trial for you.
A word about the Dummy Data. You have the option to import all the images in our demo as well as with placeholders. There are 300+ images in our original demo and hence Front Main demo Premium would take 20+ minutes to download all images ( varies based on your internet speed ). We've also included the same demo with placehlolders which would import in less than a minute.
Premium Images Included
We made custom license for all our premium images in the Front. This means everything you see in our live demo pages including premium stock images are included with your purchase.
70,000+ Happy Customers
Front is brought to you by MadrasThemes & Htmlstream. The team that build many increadibly beautiful WordPress and HTML5 templates in the last 7 years and have sold over 70k copies combined. We have learned the best way to build, maintain and support our themes. During this time, we've answered over 40k+ support questions. Our mission is to make your life easier with our products.
Built by MadrasThemes & Htmlstream
Front is built by the team that has customers in the background such as Standford University, The University of Maryland, University of Victoria and many more Government and Corporate Agencies. To bring the most modern look of any WordPress theme across all marketplaces, Front sets the new standard with breathtaking design, top-notch support and incredible featured packed updates that will save your precious time and gives trendy look to all your web projects.
Release History
v1.0.9 – 2020-03-13
Feature : WooCommerce 4.x compatible
Fix     : Stats Interactive Block option added for change timer text
Fix     : Reviews verified owner issue fixed
Fix     : Fixed an issue with Hero Blocks
Fix     : Source-map Notice Issue
Fix     : Translation Issue
Fix     : RTL Issues

v1.0.8 – 2020-02-26
Fix     : WooCommerce Translation Issue

v1.0.7 – 2020-02-26
Feature : Customer Stories
Feature : Additional customization options for Features Block
Feature : Job Header Search Form Style
Update  : Dummy Data for easier import
Fix     : Header Option Issues
Fix     : RTL Issues
Fix     : Issues with Translations

v1.0.6 – 2020-02-21
Feature : Testimonials without JetPack in Front Gutenberg Blocks
Feature : Portfolio in Front Extensions
Feature : About Company information in Job Data
Feature : Additional customization options to Info Blocks
Update  : Added CSS classes for all Front Gutenberg Blocks
Fix     : Issues with Blog Options
Fix     : WooCommerce plugin conflicts
Fix     : URLs in Button Blocks
Fix     : Hero Overlay Issue

v1.0.5 – 2020-02-12
Fix     : Header Logo issue in Sticky Header

v1.0.4 – 2020-02-07
Feature : Typography Options
Feature : Custom Primary Color and Secondary Color Styling Options
Feature : Simple Demo reducing dependencies on plugins
Feature : Testimonial Block ( without JetPack )

v1.0.3 – 2020-02-03
Feature : MAS Static Content Taxonomy
Update  : Static Content Dummy Content organized
Update  : Portfolio Blocks updated
Fix     : Fixed a stalled request issue when using Custom Sidebars & WooCommerce
Fix     : Fixed issues with FrontGB Gallery, Info Section & Tabs Block

v1.0.2 – 2020-01-30
Feature : Compatible with WPForms
Feature : Custom SVG Icons in Icon Controller
Feature : Blocks can now add additional CSS classes
Feature : Additional Setting for Portfolio
Feature : Improved Theme Options
Update  : Dummy data updated for WPForms
Update  : One Click Demo Import Menu Links
Update  : Icon Control Path
Fix     : Fixed an issue with Hero Blocks & Portfolio Blocks

v1.0.1 – 2020-01-24
Feature : RTL Compatible
Feature : WPML Compatible
Feature : WooCommerce 3.9.x compatible
Update  : Dummy data updated
Fix     : Job Search Block issue fixed

v1.0.0 – 2020-01-21
Initial Release

Front – Multipurpose Business WordPress Theme is an incredibly beautiful, fully responsive and cleanly coded WordPress theme. It is the perfect starting point for your creative business. It is built on mobile-first approach rendering extraordinary looking website both in mobile as well as in desktop devices.
Built for Speed
Fastest WordPress Theme. Loads under 700ms. Front is one of the fastest WordPress Themes out there because we've used Gutenberg instead of page builders. With additional optimisation plugins like WP Rocket, you can get a load time under 700ms


Built for Multipurpose
Front comes with 24 home pages and demos that includes home pages for Corporates, Creative Agencies & Professionals, Products, Apps, Real Estate Business, Job Boards, Help Desks, Crypo Currencies and more.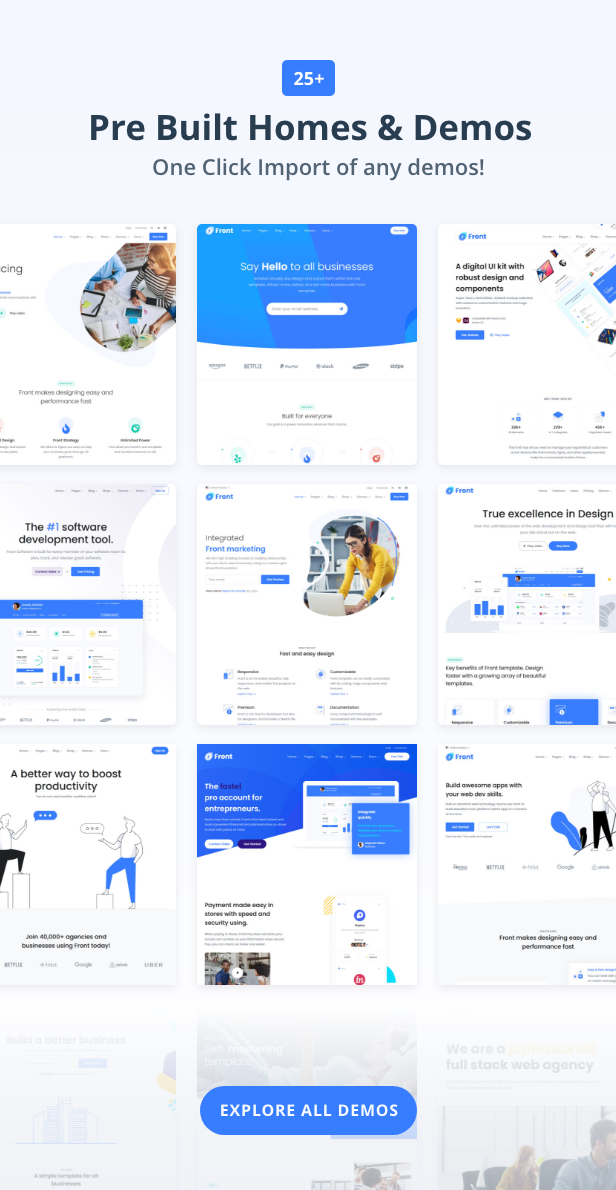 Built for Gutenberg
All the elements that goes into our Front's home pages are built using WordPress's native editor, the Gutenberg. Hence we do not need bulky page builders to build your beautiful website. This also means your pages will load faster and are easy to customize without having to worry about coding.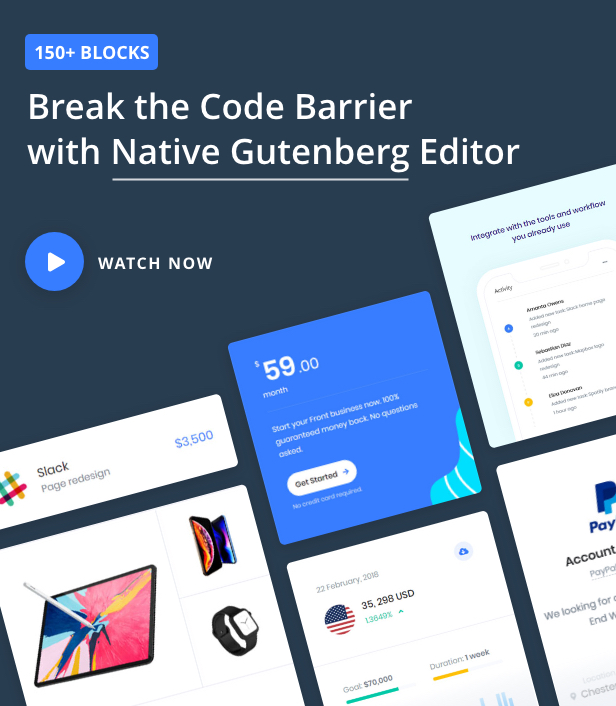 Sell your products Online
Front is compatible with WooCommerce, the most popular eCommerce plugin for WordPress. Our Shop page and products archive pages are beautifully crafted to increase customer engagement and help grow your business online.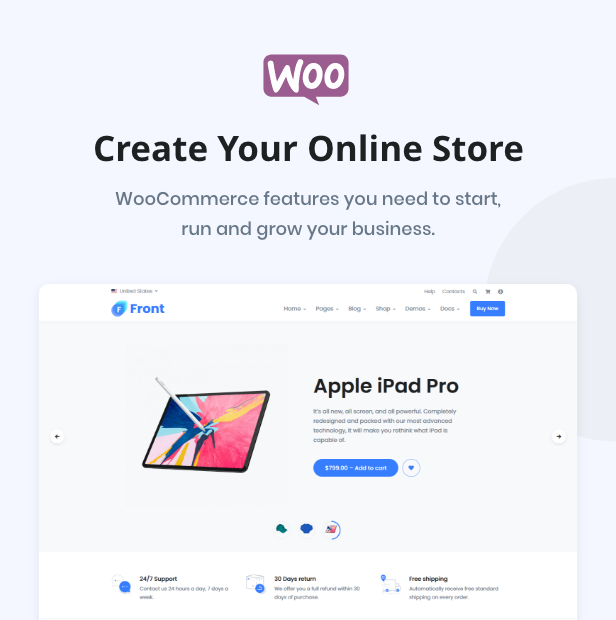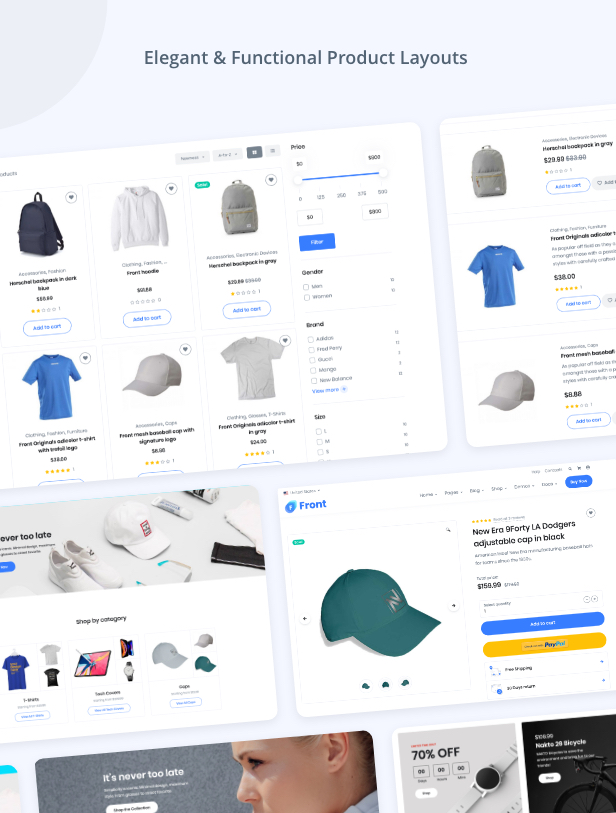 Professional Job Board
Build your next Job platform faster & easier with Front & WP Job Manager. Front integrates seamlessly with WP Job Manager and its core add-ons. We've also added additional features and blocks that would enhance the functionality of WP Job Manager and takes your website up one level in features. Our Job pages are stunningly beautiful, cleanly coded and easy to use. You can also use our one click demo import to import our demo content to give you a head start with your Job Boards website.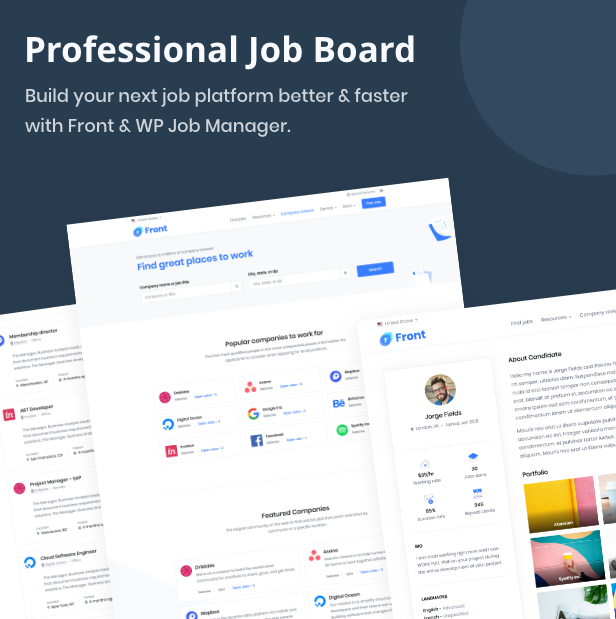 Help Desk Made Simple
Launch knowledge base for your products without touching a single line of code. With the help of industry standard weDocs plugin, Front will help you create a neatly designed help desk website instantly. We have also included Help Desk content with our one click demo import.